All images copyright 2009 Susan Silver Brown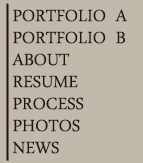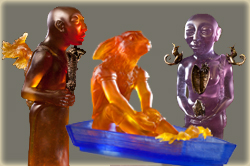 My glass sculptures are made in the lost wax process, which is very similar to the well known bronze process. Initially I sculpt a work out of clay and then a mold is made from that. Liquid wax is then poured into the mold and after it has hardened it is cleaned up or dressed. At that point a refractory mold that can go up to 1520 degrees is made then the mold is put into a steaming chamber, which evacuates the wax out of the mold.
This mold which can weigh up to 500 lbs. is either A-framed or fork lifted into the kiln. The mold is now empty and a vessel holding the properly weighed out glass lead crystal is then placed on top of it. Over a period of between 4-8 weeks the glass fills the mold and slowly cools down. The mold is then pulled out of the kiln and the mold material is taken off or divested. The glass is ground with diamond tools and then sandblasted and acid polished with hydrofluoric acid.
Any use of images without permission is prohibited.